If you think the most important thing in any Gaming setup and didn't think of an optical gaming mouse then it's not a big deal. Usually, when we think of a gaming setup, the nice & considerably big crispy display, an RGB lighting keyboard comes to our mind. The gaming mouse is one of the last purchases in our Gaming setup and usually, we get a Gaming Mice and Keyboard bundle in which we focus on Gaming Keyboard and not much on Gaming Mouse. So the budget for the Gaming mice as compared to a complete Gaming setup is very low.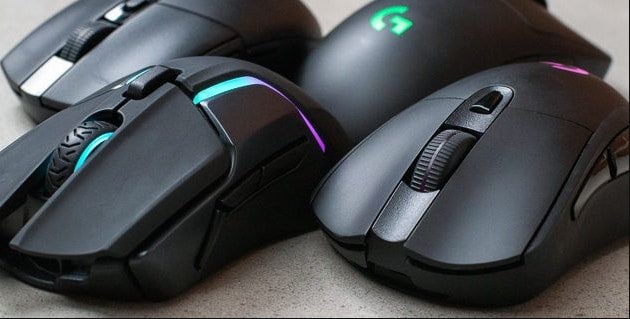 Gaming mice are made to handle options and tasks that normal mice can't. They have more buttons and more smoothness; they are optimized for gaming setups. These make the whole gaming experience even better and easy.
There are many gaming mice from companies that focus solely on gaming. Each mouse has some unique features to complement gaming. Premium mice also exist with some fancy features, but why spend a hundred bucks you can purchase the best Budget Gaming Mouse under $49.
CORSAIR – M55 RGB PRO Wired Optical Gaming Mouse
Starting at just $39, first on the list, we have CORSAIR Wired Optical Gaming Mouse. The Corsair M55 mouse has 8 programmable buttons. This gaming mouse has a 12,400 DPI optical sensor to provide smoothness in gaming. The gaming mouse has a typical RGB backlighting with customizable presets and lighting effects.
The Corsair Gaming mouse connects to your computer via USB port and weighs only 0.19 lbs so you can play effortlessly for hours.
Related- [Review] MSI GS66 Stealth Gaming Laptop: September 2020
HyperX – Pulsefire Core Wired Optical Gaming Mouse:
With the price of $29.99, second on our list is the HyperX Pulsefire Core Wired Gaming mouse. The HyperX wired optical Budget Gaming Mouse has a Pixart 3327 optical sensor that supports the DPI up to 6200.
The HyperX optical Gaming mice have symmetric shape that allows users to either uses the left hand or right hand whichever is dominant during usage.
The HyperX mouse has an LED light that scans the surface beneath the mouse to detect movement and in testing, the movement capturing was slightly off for a millisecond here and there.
This would affect the users in competitive gaming but for regular usage, the HyperX optical gaming mouse would perform well.
SteelSeries – Rival 310 Wired Optical Gaming Mouse:
Coming for under $48.99, the SteelSeries Rival 310 is a wonder mouse! From a company that makes phenomenal gaming headphones, gaming mice also performs well for all the users/ gamers. Rival 310 has a specially designed 12000 DPI tracking sensor.
With the ergonomic design and comfortable grip, you won't be having any issue with long working/ gaming hours.
CORSAIR – HARPOON RGB Wireless Optical Gaming Mouse:
Even if the other brands have most of the mouse above the $70 price range, here is another Corsair mouse priced at around $47.99 and even as low as $39.99 in the sale.
The Harpoon has a 10000 DPI optical sensor with low latency Bluetooth connectivity with an ergonomic shape and rubber side grips ideal for medium and big hand-sized users.
The Wireless optical gaming mouse has six programmable buttons and has up to 60 hours of battery life on paper but in our testing, it lasted around 35-40 hours.
Even if the battery runs out, you can always plug in the wireless and continue the usage while the mouse charges itself.
Related- 9 Best Game Boosters & Game Enhancer Software for Every PC
Razer – DeathAdder Essential Wired Optical Gaming Mouse:
Razer is one of those manufactures that has a product very similar to its competitors but is a little pricey than others only because of the build quality.
The Razer's DeathAdder Optical gaming mouse is no exception and is of has a High-quality build and very aesthetic design.
Razer has its unique green logo, sometimes glossy, that looks beautiful and can be recognized from afar. Their gaming mouse, the DeathAdder is a tiny monster.
Real good quality sensor for high precision gaming, rigid and durable mechanical buttons. It holds 5 independently programmable buttons, ultra-responsive, and very low latency. It has a rubberized scroll wheel which also has a green LED light. For $48.99, it is a great buy! More value for money.
Razer Atheris Wireless Optical Gaming Mouse:
Another contender from the Razer company, the Atheris is a proper gaming-focused mouse. It has a special stormtrooper edition. The special part is that it has 350 hours of continuous use of life. This is because of the AA batteries present in it.
It has dual connectivity features and 6 programmable buttons. It also has rubber grips for a precision gaming experience. For around $48.99, it is a great addition to your perfect setup.
Alienware AW558:
Alienware is one of the best gaming machine lineup and with their gaming accessories, it is like a cheery on the cake. It has high precision optical sensors with 5000 DPI with 3 DPI settings.
The Alienware AW558 has 9 programmable buttons that can be used to create a customizable gaming experience.
It has great comfortability and tough durability that makes you game non stop without disruptions and for long times. It has RGB lighting to match your setup and enhance it. For $50, it is a steal!
Logitech G502:
The Logitech g502 mouse can be termed as the world's best-selling/ looking Budget Gaming Mouse since it definitely looks like one and very stylish, perfect for gamers.
The Logitech g502 has a 16000 DPI sensor for that smooth, seamless performance. It also houses tunable weights, can be changed according to your liking.
Taking it a step further, Logitech G502 HERO has 11 programmable buttons! Those are a lot of buttons that can be used for gaming, you may not even need a keyboard. All these features for $48.99 is an unbelievable steal!
Lenovo Legion M200:
The company that manufactures killer gaming laptops, Lenovo has a gaming mouse of the same laptop range. The Legion range of laptops is a familiar range which has some impressive gaming laptops. The mouse has the same name, Legion M200. It is so ergonomically beautiful. It looks different with that hint of gaming rage.
It sports 5 programmable buttons with 7 color RGB lighting. Very smooth mousing experience, gaming becomes really seamless. It has up to 2400 DPI and it has a dedicated DPI button to change it any time. Coming for $19.99, the Legion M200 lives up to its range name and is an excellent buy.
There are many other premium options of gaming mice that offer much more and many other unique features. This was the list for the most unique and budget gaming mouses under $49. These are not bad products, they can last longer and used for hard gaming as well. Hope this list will help. Happy gaming!
Related- $1000 Asus Zephyrus G14: Is it Worth $1000 with Nvidia Graphics 1660Ti