Do you ever feel like you have an amazing idea for an app that could be the next big shot but don't how to get a start or don't want to code? Well, most of us have been there and understand how it feels so we have reviewed more than 25 ideal App Builders for beginners and free app builder with little to no coding experience but a little bit of creativity. We have tested not only popular but also the new low code app builder that will assist you to make a wonderful App that could potentially run on Android and iOS too. Know one thing, these App builder for beginners are not replacements for app building by programming, just an extra tool at our disposal.
Google App Maker: Best App Builder for beginners
Created and launched by Google Inc, the Google App maker is the foremost and most used low code app builder and best suitable for people less familiar with programming and want to pace the app development process. The Google App Maker comes in the Google Suite family that allowed users to build and deploy business and personal apps on the web.
Like every other App builder, Google App Builder also has a drag and drop feature that allows users to customize the user interface or use the predefined template for quicker results. The users are also allowed to tailor the templates with the help of HTML, CSS, Javascript, and Google's own Visual framework. With all the features and prompt consumer support, Google's App maker is of the finest App Builders for beginners.
Appy Pie
This is one of the most preferred app builders on the market since it offers total beginners a chance to build their really own mobile app in just a few minutes. Also, Appy Pie comes strapped with special features that enable individuals to add In-app purchases and Advertisements. Appy Pie puts a strong focus on client service.
The Appy Pie consists of an extensive list of tutorials, which attends to every possible problem that an individual may run into when developing their app. There's an online chat alternative offered to settle any problems you might run into when developing your app. While you will not be developing the next complete Uber app with this low code app builder, it however provides you the capability to develop a fundamental app that will provide all the essential functionalities.
Zoho Creator
The Zoho Creator is specifically targeted at organizations wanting to simplify and automate jobs, such as creating applications for functions such as sales administration, order administration, occasion administration, logistics, or recruitment tracking, for instance.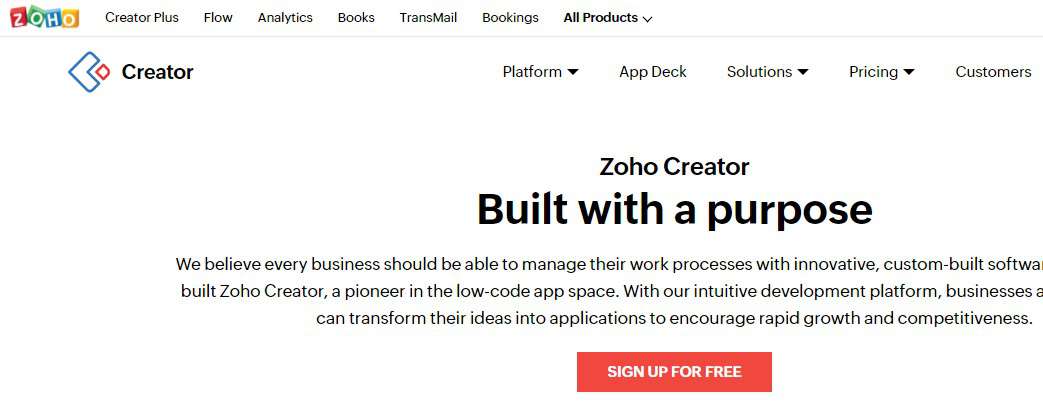 Whatever you're looking to do, you can totally personalize it the method you want. Zoho Creator provides you a drag-and-drop option so you could create a User Interface from scratch as per your requirements from your Zoho Creator dashboard.
AppSheet
AppSheet is another App Builders for beginners that enables you to create bespoke applications for yourself, without needing to write with or develop code. Driven by your very own cloud-hosted data in a spreadsheet layout, you can after that choose a template to function around the functions and also alternatives you desire, prior to deploying your app.
It's easy to integrate data from several resources, not the very least from Google Sheets, Forms, Excel from Office 365, or perhaps SalesForce if required. You can import spreadsheets conserved on Dropbox or OneDrive, or straight from MySQL or SQL Server.
Related- Top 5 Mobile Apps to Learn Programming [Paid & Free]
Appian
Appian promotes the advancement of "low code" apps which they advertise as taking as low as 8 weeks between creating the idea and also finishing the app. The main emphasis of Appian's app development software program is venture apps for service, to optimize processes using auto processes and AI in order to present business information in useful and also significant ways.
Additionally, by managing data from numerous resources, details can be unified to offer actual chances for insights on whatever to administration required for business development.
Appery.io
This is a cloud-based app builder that offers customers the capability to release applications for iPhone, Android as well as Windows Phone. Appery.io uses the drag and drops function to create the UI, as well as also permits you to carry out REST API functionalities to your app.
The Appery.io instructive tutorials and useful standards that will give them the essential abilities to make fundamental mobile apps, whereas skilled users can build the app using the resource code.
GoodBarber
This App Creator platform with a curious name is based out of the French island of Corsica that boasts several of the most sensational themes and templates. GoodBarber supplies an instinctive and flexible experience when developing apps. And the experience is smooth even if you've never coded before, I have personally used this so can tell you definitely.
You can begin working on your app without any delay once you authorize up. Given that the system is web-based, you can develop your app with any system you have, making it more usable.
Shoutem
The Shoutem provides several choices to customize to make sure that each app you create has its own special design as well as a unique feel. The building functionality gives users an incredible amount of options to tailor motifs, layouts, shades, and also typography. So, your apps will look excellent and also be loaded with great attributes. Shoutem is best for Event apps due to the fact that of its Social Wall, where customers can post pictures as well as share remarks.
It additionally offers great options for retail organizations. Actually, Shoutem's monetization functions such as mobile advertising and marketing assistance provide you the choice to make back the cash you spent to establish the app. One of the platform's most appealing functions is its integration with Facebook, Twitter, Foursquare, and WordPress.
Related- 11 Ways to Earn Money with Coding Skills
AppMachine
AppMachine is yet another simple as well as enjoyable to use App builder for beginners. Well over 200,000 applications have been made with AppMachine as of today. What sets this app builder apart from other alternatives on the market is its automation of several tiresome processes. You can automate multiple processes and event triggering that would save hours of work to create workflows.
Siberian CMS
The Siberian CMS App Creator for beginners is made in France, Siberian has 2 one-of-a-kind functions: they give you the complete source code of the app, but you must install the Siberian CMS on your domain. Due to the fact that you can build an app totally free, it's worth it!
Besides that, if you are not that tech-savvy you can additionally inquire to set up the platform for you with small additional charges. They likewise offer you lots of helpful extra components such as the Whatsapp-like chat function, a visit add-on, their Uber-like taxi service, and also a classifieds feature that functions comparable to Craigslist.
Swiftic
This Swiftic was started in 2010 in Israel claims to support more than 1 million apps worldwide, making it among the most significant contributor to the app market. They supply a broad selection of structure blocks such as a loyalty card attribute, appointment organizing assimilations, e-commerce, user testimonials, and events.
A lot of the examples on their app gallery are dining establishments, bands, and other events. Swiftic released a new price structure: currently there is a month-to-month ($57), annual ($48), or bi-yearly ($41) option.
AppInstitute
AppInstitute is the biggest App Creator in the UK and the winner of several startup honors. They have wonderful eCommerce features, with a very personalized catalog as per the requirement.
You can additionally spend on every little thing without ever leaving the app. Price-wise, you can get a PWA and Android app for $42 a month. It costs $66 a month to publish to the iPhone. This comes with fundamental press notices as well as app analytics for monitoring the app data and useful data and business figures.
Also Read- 9 Best Game Development Engines for Beginners
BiznessApps
In the video clip on the BiznessApp site, they make a strong statement: one in every 20 apps out there runs on Bizness Apps. In order to create native iOS or Android apps, you'll have to select their Mobile Apps plan for $99 per month. The User interface and usability are very clear and high making it more user-friendly and simple to use App builder for beginners.
AppYourself
This AppYourself began in 2011, permitting its users to create apps for iOS, Android, Windows Phone as well as pure HTML5 apps. Their promise does not end with a mobile app: in comparison to other app maker software programs, they additionally allow you to build a responsive website that automatically syncs your app content.
There are three pricing tiers, with differing restrictions on customers and press notice projects Starter ($20) is for PWAs and 200 users. Service ($40) coincides with 2000 customers. Enterprise ($80) gives you unlimited individuals for iPhone and Android applications. You can check out AppYourself absolutely free, so you can decide if it the right one for you and fits in your budget. In order to have the ability to in fact submit your app to among the app stores, you need to be on, a minimum of, their Basic strategy.
Mobile Roadie
As one of the bigger gamers, Mobile Roadie proudly showcases its customers: Disney, TED.org, and also Universal have applications made on their system. Provided the rate factor varies from $149 (Basic) to a large $799 per month (PRO) this company clearly has its concentrate on bigger companies.
I specifically liked their style varieties that include excellent templates and give you a lot of options to fine-tune them. They have a couple of great community functionalities such as conversations, a follower wall that can be particularly useful for bands as well as musicians.
Mobincube: No Code App Builders for beginners
In comparison to Mobile Roadie, Mobincube positions itself as an App Maker for every person. Everybody has the ability to build an app and make some cash by the Admob system is what Mobincube believes in. Prior to you generate income though you'll need to spend some but don't worry, since Mobincube is really budget-friendly.
While they use a cost-free plan, their most inexpensive ad-free plan is priced at $9.99. Surprisingly, all of their plans enable you to 'go native', i.e. to post your production to one or every one of the major app stores.
Related- 8 Super Cool Project Idea to Build an Effective Linkedin Profile
AppsBuilder
This Italian app developer AppsBuilder includes a drag and drop editor that has been used in almost half a million apps on different stores as of today. The control panel and editor are surprisingly intuitive once you navigate the totally free account sign up.
Adding logos and various other photos are extremely easy, as you can quickly scale images as well as include effects effortlessly after dropping your photo onto the webpage. There is also a broad variety of modules you can include to webpages, such as eCommerce, multimedia, maps, calculators as well as loyalty tools.
MobAppCreator
The MpbAppCreator claims to have practically 41,000,000 app views and increasing, however apart from that, they're a little mysterious, without even an 'About Us' or Company Profile on their site. There aren't many built-in templates for using and when asked, they said the templates are in progress. With a little number of templates compared to others, the MobApp Creator is fairly simple and has straight forward User Interface.
AppMakr
This is app building platform actually grabbed our attention! AppMakr is just one of the largest DIY mobile app builders for beginners that provides terrific services to local businesses, non-profits, and individual users. Almost 2 million mobile applications have been developed using AppMakr.
The AppMakr has both free as well as paid versions. Users can make decent fundamental apps with a totally free variation (We tested and confirmed). You can actually build a completely working app in under 20 mins (tested again). The process of building an app includes adding text, sound, video, and HTML elements. Once you're done, it AppMakr makes it ready to publish the app on online stores.
IBuildApp
The IBuildApp system makes use of one of the easiest drag and drop editors and has more than a thousand various streamlined design templates that come with a Content Management System. iBuildApp has a large pool of tools and advertising functionalities that will certainly make your app feel smooth and look professional. The user-friendly interface is developed so as to allow a beginner to develop a fully practical app in just a few mins.
Gamesalad: Best Game App Builders for beginners
Right here's an App Builders for beginners to make 2D games for Android, iPhone, etc. Much like other prominent app-building systems, GameSalad features a drag and drop interface that permits individuals to build video games without any type of coding.
The drag and drop user interface makes it very easy to produce various degrees by establishing the phase in your preferred order, comparable to Mario Level Creator for Nintendo video gaming systems. GameSalad has a scene and actor editor which enables you to include actors in a scene and edit them according to the requirement. The Game building feels a t of fun when using Gamesalad.
Bonus App Builders for Beginners- Buildfire
BuildFire is one of the most dependable app builders for beginners on the market. Well over 30,000 businesses have made use of BuildFire to develop their applications. This system is preferred by brands, influencers, and also tiny to mid-sized businesses. Within a number of days, you can release an app and offer your clients access to your product/service sources by means of the app.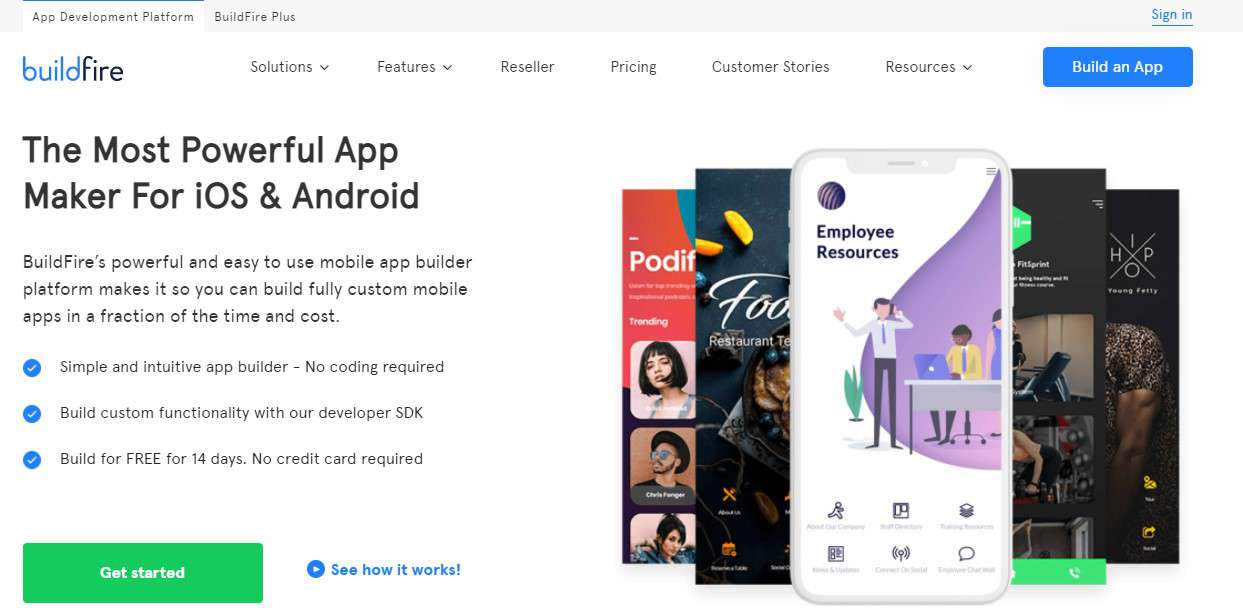 BuildFire is so preferred due to the fact that of its straightforward interface, quick and also easy reconfigurability, and basically endless customization alternatives. It's user-friendly, smooth UI makes structure iPhone or Android applications a breeze. You can make fast modifications and also check them in real-time which makes it easy for developers.
Conclusion
With the list above, we can confidently say that you don't need any coding skills to build an awesome app. All you need is a good idea and a teeny tiny bit of creativity. There are obviously some constraints but nonetheless, you will get an amazing mobile app with these App Builders.