The rapid digitalization of our world has led to a great demand for people with a technical skill-set. Programming languages are the key to everything in the programming world and programming skills can open doors to dozens of lucrative tech careers. There are tons of resources on the Internet offering multiple programming course to learn coding and also many programming learning app.
Just like any other language, programming also requires clear concepts and lots of practice, but the problem is that one can't always sit in front of a desktop to learn to code. The solution comes in the form of coding apps. There are a large number of programming apps in the market today that cater to all the needs of a learner. Today we have brought to you a list of some of the best Mobile Apps to Learn Programming.
Sololearn–
SoloLearn is the greatest and probably one of the biggest Android applications to learn coding from scratch. It's not just a simple app but consists of a series of apps, each one designed for a specific programming language. It has an app available for both iOS and Android platforms along with a website so that anyone can use it to learn to code from anywhere. It has courses for all popular programming languages such as Java, Python, C, C++, Kotlin, Ruby, Swift, and many more. The app offers three learning modes: beginner, intermediate, and advanced, depending on the user's technical knowledge. It also offers thousands of coding topics to learn to code, brush up your skills, or just get a sense of the latest trends in the coding community.
Features:
The app comes with an offline learning mode.
Sololearn comes with a robust built-in Integrated Development Environment (IDE) that also has an autocomplete feature.
It focuses on learning by practicing and each course many practice sessions and quizzes between lessons.
Pricing:
All the courses are free to enroll in and learn. Sololearn offers a Pro version that unlocks all the quizzes and practice sessions in a course. The "Pro" plan costs $6.99 a month or $47.99 a year with a free trial period.
Related- Top 13 In-Demand Programming languages for Freshers and Jobseekers
Mimo–
Mimo is a programming app that focuses on developing programming skills that will help users to develop real-world projects like an app, a game, make a website, or become a hacker. It has been designed with multiple learning paths that allow you to focus on one of these projects based on your preferences and interests and the app even consists of a personalized track that will teach you the necessary skills. The Mimo app was nominated as the "Best Self-Improving App" in 2018 by Google Play Store.
Features:
Mimo app has a friendly and rather simple interface with bite-sized lessons that can be finished quickly. By just taking 5-minute lessons daily, one can learn to build their own websites over time.
The app has a very large community and millions of coders are always online to solve your doubts.
It also includes coding challenges that let you enhance your knowledge and experience by competing with coders from all around the world and help you in rectifying your flaws.
Pricing:
The courses come with a 7-day free trial period after which it is $6.66 per month and$79.99 billed yearly.
Related- 8 Free Online Coding Games for Everyone to learn Programming
GrassHopper–
Grasshopper is an app that teaches you the concepts of JavaScript and is very popular considering the fact that there is barely any online application that doesn't use JavaScript; thus, everyone wants to learn JavaScript. The app consists of JavaScript puzzles that you have to solve in order to progress. It teaches the fundamental concepts of programming such as functions, variables, array, conditionals, looping, methods, etc in a fun way.
Features:
Grasshopper app gamifies learning with awards and certificates for completing each course, which encourages users to keep coding.
The app has a very user-friendly interface and all a user needs to do is use blocks and arrange them in a logical order in order to create a working code.
There are separate categories for beginner and professional level programmers with a real-time feedback mechanism.
Price:
Grasshopper is free to use the app and all its features are absolutely free of cost. It is developed by Google and is available for both iOS and Android devices.
Related- 5 Best Resources to Learn & Get Programming Certification for Free
Programming Hub –
Programming Hub is a coding platform that was named Google Play's Editor's Choice app because it takes learning to a whole new level through its features. The app provides expertise in over 17 popular technical languages such as HTML5, CSS, C/C++, Python, Swift, etc. The app has a wide array of programming examples and course materials with over 1800+ programs that were created in collaboration with Google experts to ensure precise course materials so the lessons are more interesting. Programming Hub also has the fastest compiler on the Android platform with compilations that can run over 20+ coding languages altogether.
Features:
It has a solid user interface that comes with a text-to-speech functionality which makes learning to code accessible to a much larger audience.
The app includes short and sweet interactive lessons that allow users to understand quickly and learn faster.
Programming Hub has an expert panel of coders from all around the world who are always ready to solve your doubts in minutes.
Price:
The basic learning material is available for free, however, to access intermediate courses and extra learning materials,
 one has to go to the Pro plan which costs $6.99 for a monthly subscription, $14.59 for a three-month subscription, and a yearly subscription of $41.99.
Programming Hero –
Programming Hero is a personalized and fun app on which you can rely for learning computer programming. It is an app that caters to the needs of both beginners as well as advanced developers. The app uses fun teen conversations and game-like challenges to make your coding journey fun. Apart from teaching the core concepts of the most common programming languages, the app also introduces students to general concepts of object-oriented programming, data structure, and algorithms. It works on both iOS and Android platforms.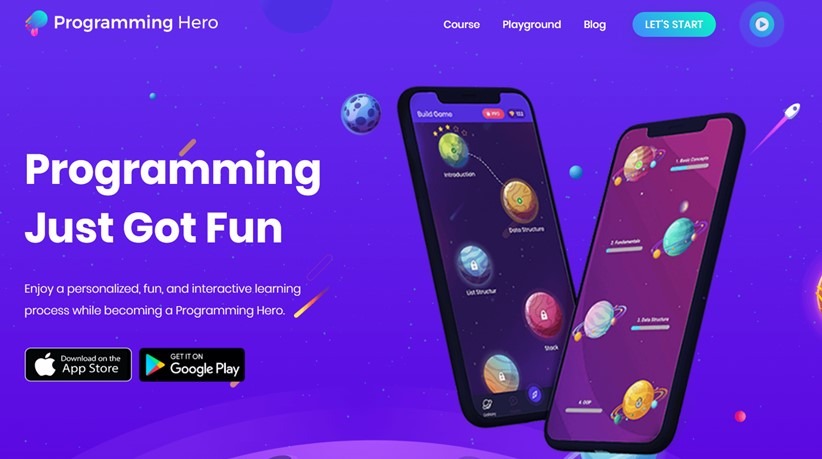 Features:
It has an easy-to-use interface and presents learning content in a very engaging manner.
The app has various forums where one can chat with other app users and exchange knowledge and tips.
Programming Hero can be used to learn the basic principles of HTML, CSS, JavaScript, Bootstrap, and DOM manipulation.
Pricing:
The app utilizes in-app currency to unlock different features. Besides this, there is also a Premium version with all the features unlocked that is priced at $9.99 for 1 month or $39.99 for 1 year
Coding apps are one of the best educational tools, especially since they remove the boundaries between a learner and the knowledge source, all one needs is a compatible device and he/she can start the journey. There are plenty of great options for Mobile Apps to Learn Programming out there not only for beginners but even for more advanced learners. While one can't rely solely on an app to learn, it can still be an invaluable tool in the long run.
Related- 25 Best VLC Media layer Alternatives for Windows, Android, and iOS