Google certifications are one of the most prestigious certifications freely available and can be enrolled by any age group person. Now more than ever, we need digitally certified skills to land good entry-level or even advanced-level jobs. The main motive of certifications is to develop skills and advance your career. Google certifications provide tools and high-quality resources to help people find jobs in the relevant field. There are a range of Google Certifications available to free like the Google Analytics Certification
Google Ads:
Advertising has always been of great importance to every business organization and after the rapid growth of the Internet all around the world, the advertising market has shifted greatly towards online mediums. The Google Ads certification is a professional approval provided by Google that recognizes an individual as an expert in online advertising.
The certification can be earned through Skillshop which is Google's online training program. Being a certified Google Ads expert is very helpful since you can draw prospective clients as well as help your company get a Google Partner badge. The Google Ads Certification is entirely free of cost and it has evolved greatly over the years. At present the certification has 6 further sub-certifications for different areas of advertising:
Google Ads Display Certification
Google Ads Search Certification
Google Ads – Measurement Certification
Google Ads Video Certification
Shopping ads Certification
Google Ads Apps Certification
The assessment is 75 minutes in duration and you need to score 80% or greater to pass the assessment and get certified.
Google Marketing Platform:
Google Marketing Platform is a unified service for analytics and advertising and it ensures a stronger collaboration between marketing teams as well as faster and smarter delivery of marketing requirements because it was launched by Google by combining DoubleClick and the Google Analytics 360 Suite.
The Marketing Platform offers 5 different certification courses to its users:
Search Ads 360 Certification Exam
Campaign Manager Certification Exam
Creative Certification Exam
Display & Video 360 Certification Exam
Google Analytics Individual Qualification
If you want to earn a Google Partner badge, you must have a certain number of employees in your company who have completed the Google Marketing Platform certification course.
Analytics Academy:
As the amount of digital data grows day by day need for proper analytics is also increasing which has made analytics one of the most popular job profiles today. Performing calculated decisions for your organization through intelligent data collection and analysis is crucial for the success of any organization and Google's Analytics Academy provides the required knowledge to achieve this task efficiently.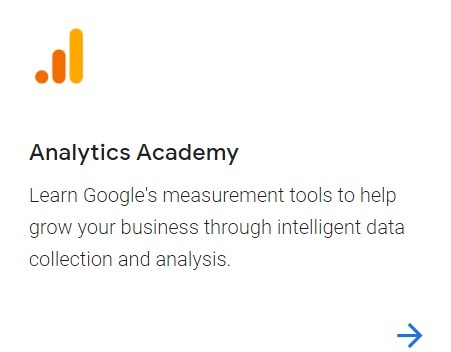 Google Analytics has become essential equipment in the digital marketing toolkit for experts. The platform teaches you about the working of different Google offered tools such as Google Analytics, Data Studio, and Tag Manager to improve your business tactics and decisions through data analysis. Analytics Academy currently offers the following six certification courses:
Google Analytics for Beginners
Advanced Google Analytics
Google Analytics for Power Users
Getting Started with Google Analytics 360
Introduction to Data Studio
Google Tag Manager Fundamentals
All the courses consist of tutorials which are a combination of text and video lessons that provide complete guidance at every step. You can complete the classes at your own pace and after the completion, you can take the certification exam to get Google Certification in analytics.
Google My Business:
If you are a business owner and want a faster, less intense, and beginner-friendly assessment and Google certification process, then Google My Business is best for you. The course is a rather small one and can be completed in less than an hour. Google My Business is an open-source and easy-to-use tool for businesses and organizations that assists them in managing their online presence across Google, including Search and Maps.
Through this course, you can learn to reach out to more customers, help them find your business, and verify and edit your online business information. By finding useful customer insights, you can develop smart campaigns to spread the word about what you offer and expand your organization. The below mentioned are the six basic courses provided by Google My Business:
Engage customers with Google My Business (7 m)
Claim your Business Profile on Google (6 m)
Get your Business Profile verified (5 m)
Optimize your Business Profile on Google (10 m)
Use tools to engage your customers (6 m)
Manage profiles simply in bulk (6 m)
After taking all the courses, you need to pass a small assessment which earns you an Achievement to display on your profile.
Related- Top 5 Mobile Apps to Learn Programming Language [Paid & Free]
Google Ad Manager:
If you are a brand or a publisher, then you will surely want to advertise your products through online advertising, and who better to do this task than Google itself. Google Ads Manager provides you a platform to manage all your running advertisements as well as earn more from ads, and grow your business.
It provides a complete set-up for ad management and facilitates both the buying and selling of ads across multiple ad networks and locations. The Google Ad Manager provides 11 courses each of which targets a specific point of ad management. The courses offered are:
Meet Google Ad Manager
Manage Settings with the Admin Tab
Build Inventory and Ad Units
Boost Your Active View Score in Ad Manager
Deliver Ads Using Google Ad Manager
Optimize Creatives with Ad Manager
Forecast Your Inventory Using Ad Manager
Create Reports in Google Ad Manager
Explore Programmatic Capabilities in Google Ad Manager
Manage Ads with Rules and Protections
Review and Manage Ads in Google Ad Manager
After completing these tutorials, you can set up your own Ad Manager Network, create inventories, ad campaigns, and much more.
Google Admob:
Google AdMob is an interesting venture by Google that helps developers to earn money from their mobile apps through high-quality ads.
AdMob matches ads to your app based on criteria you set thus providing more relevant ads for your users, and more revenue for you. The AdMob Foundation kit consists of 5 tutorials:
Meet and Set up AdMob
Manage Ad Formats and Inventory with AdMob
Create reports in Admob
Grow Revenue with AdMob Mediation
Protect Users and Advertisers on AdMob
Mastering AdMob essentials gives you the knowledge to set up your app monetization and grow your revenue by selecting the right ads for your users.
Waze:
Waze Ads is a platform that provides tailor-made advertising solutions for your business needs. Waze Ads Fundamentals is a free certification course that helps advertisers and brands to get started with Waze Ads and create ad-campaigns that stand out from the crowd. The course has 7 very small tutorials which are optional to watch:
Introduction to Waze
Powering the Map
Why Waze Ads
Formats that Matter
Our Audience
Best Practices
Wrap up & Resources
You can complete the tutorial or directly give the assessment exam. To pass the test you need to score at least 80% after which you get a Waze Ads certificate which is valid for one year.
Conclusion-
So, to conclude, the above-mentioned programs are suitable for a large variety of people whether you belong to an IT background, Management stream, or are willing to become an entrepreneur. Having a Google certificate is very beneficial because it is a trusted and well-known company and the certificate also proves that you are a Google accredited individual. Thus, it is very fruitful to get a Google certification especially since it is available free of cost.
Related- 5 Best Resources to Learn  & Get Programming Certification for Free