Fake email generators are temporary mailboxes that enable to send and receive emails from fake email addresses. You can make use of these on the email generators to prevent leaking your confidential info, advertising, and marketing mailings, or send out an email without being tracked, and to avoid spam emails. You can get a disposable email address or fake business email for a certain amount of time and then forget about it, it is as simple as that.
There are several websites or service providers that require an email address such as loading an application, watching video content like Netflix, signing-up, or downloading an e-book.
Related- Top 9 Websites & Tools Generate Fake International Credit Card
Sometimes we might be hesitant to offer our regular email address, because of safety factors and sometimes to avoid our inbox filled with undesirable spam emails. For these factors, we can utilize a fake email address.
1) Emailfake.com
The EmailFake is useful for registering on any kind of website, getting a confirmation email, and also avoiding spam emails to your personal/official email addresses. You can create a fake email id in just 2 basic steps. The fake email address will certainly be valid for 231 days which is more than enough for whatever purpose you use it.
URL of Emailfake.com – https://emailfake.com/
2) Fake Mail Generator
The Fake Mail Generator is useful for producing a disposable email address and also for preventing the normal email account inbox from getting filled up with spam emails. It has country-specific domains to narrow down to your requirement. There are 10 different domain names, utilizing which you can produce fake email addresses. This fake email address generating solution can be utilized without any registration.
URL of Fake Mail Generator – http://www.fakemailgenerator.com/
3) Email Generator
The Email Generator is useful for email verification, subscribing on a website, creation of test account, social media network sign-up, as well as email registration. Email Generator comes with 231 days of uptime for emails. It permits you to produce a fake email id without registering. To generate the Fake email address with the Temp email, all you have to do is simply click.
URL of Email Generator – https://generator.email/
4) YOPmail
The YOPmail is useful for safeguarding your email account from getting loaded up with spam mail. This email id can be used anywhere for registration. It produces a one-of-a-kind disposable id for each as well as every individual.
URL of YOPmail – http://www.yopmail.com/en/email-generator.php
5) Throwawaymail
The Throwawaymail is beneficial for signup as well as confirmation mail for requesting any of the services available on the internet. This temp email address can be utilized for signup and also verification e-mails. Without enrollment/ registration it allows you to create unrestricted fake emails. The fake email address will get expired in 48 hours, just enough time to get your work done in most cases.
URL of Throwawaymail – https://www.throwawaymail.com/
6) Mailinator
The Mailinator can be used for protecting against spam and QA Testing. There is no requirement to sign up with Mailinator for creating as well as using this temp email address. The produced temp email can be shared anywhere and can be utilized on any website. The temporary emails will certainly get auto-deleted after a couple of hours.  choices are available. Privacy options and storage space plans are also offered based on your requirement. It is very easy as well as straightforward to make use of to create a fake business email address.
URL of Mailinator – https://www.mailinator.com/
7) Dispostable
The Dispostable is one of the fake email address generators is useful for developing a fake email id when you are in a severe rush. It actually has a good user-interface and pretty easy to navigate to get the job done. If you are new to fake email address generators, dispostable is a good choice to start with.
URL of Dispostable – https://www.dispostable.com/
8) GuerrillaMail
The GuerrillaMail can be used for preventing your personal/official email address from getting loaded with spam e-mails or getting leaked on the internet. The GuerrillaMail also has a mobile app for Android devices to generate a disposable email address that has the validity of an hour. The GuerrillaMail is one of the one-time-use email address generators.
URL of GuerrillaMail – https://www.guerrillamail.com/
9) 10Minutemail.com
Useful for applications, sites, and Q/A Forums. You can produce any number of email addresses. It is quick as well as simple to use. If you need any assistance, there is also a  Support that will help you resolve the issues as soon as possible.
URL of 10Minutemail.com – https://10minutemail.com/10MinuteMail/index.html
10) Trash Mail
Useful for sending and also getting disposable fake emails. It is additionally beneficial for writing a confidential email with attachments. The Trash mail also has a Limitless email forwarding feature that is unique and found in very few service providers.
URL of Trash Mail – https://www.trash-mail.com/en/

11) Temp-mail
Temp-mail is a disposable email address generator that provides a temporary address. It will immediately eliminate after some period of time once you generate an email. It is the most innovative offhand email service, which helps you to stay secure. You can keep your inbox free from marketing mailings, hackers as well as assaulting robots.
URL of Temp-mail – https://temp-mail.org/
12) Email on Deck
Email On Deck is the website for all points relating to offhand, disposable, as well as temporary email addresses. The system frequently erases email addresses. The Email on Deck helps you to protect your privacy by not allowing spam in your inbox.
URL of Email on Deck – https://www.emailondeck.com/
13) MailCatch
MailCatch is a complimentary email solution to create nonreusable mailboxes of your own. Your email id would be your username@mailcatch.com. Email forwarding and also exclusive MailCatch host is feasible using the premium solution. It eliminates email addresses based on the server. Pick login name of 1 to 25 characters with added Firefox add-on. It can be used for an unlimited variety of times.
URL of MailCatch – http://mailcatch.com/
14) Getnada
Getnada mail is a nonreusable email that can be used rather than your actual email. It offers extensions like @getnada. Getnada enables you to create n number of inboxes. Messages will certainly be revealed immediately without refreshing the page and browser session. Service can additionally be quickly accessed utilizing Chrome extension. Getnada also offers the Android app to create an unlimited number of fake business email.
URL of Getnada – https://getnada.com/
15) OwlyMail
OwlyMail is a fake business email address generator that uses the conserve email listings.  It sends out notifications to its users on receiving an email and has Multi-Domain emails. OwlyMail can likewise be made use of for verification of Netflix, Twitter, or Facebook.
URL of OwlyMail – https://owlymail.com/en/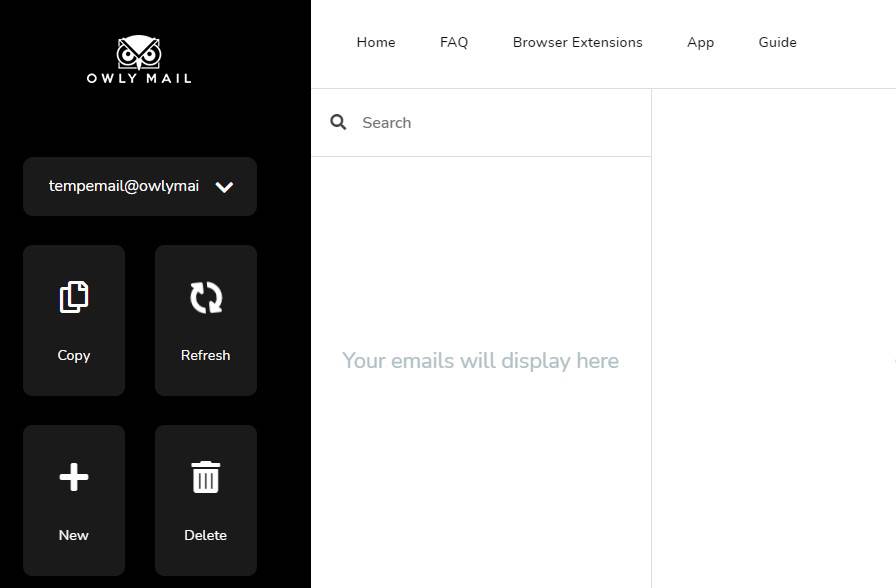 16) Moakt
Moakt is a fake business email address generator that has a validity of 1 hour or same session for 1 hour. As soon as you create any email, it will be available immediately for usage.
URL of Moakt – https://www.moakt.com/
17) LuxusMail
LuxusMail is a solution that enables you to create a disposable email address. You can either choose your email id from the list or generate it arbitrarily. It is a protected offhand email solution that allows you to stay secure all the time.
URL of LuxusMail – https://www.luxusmail.org/
18) Generator
The generator produces an offhand email address. You can utilize it as long as the email is valid. The generator enables you to use the second-level domain. It immediately shows incoming mails. Easy to pick a domain name.
URL of Generator – https://generator.email/
19) MyTemp
The MyTemp is a totally free toss away email solution. It supplies you with a random email address that can be made use of while signing up for any website. All emails received by MyTemp web servers are displayed immediately in the internet inbox.
URL of MyTemp – https://mytemp.email/
20) Tempail
The Tempail supplies you temporary mail addresses that end after 1 hr. You can use these emails to subscribe to social media sites web sites like Facebook and Twitter and check out the incoming emails. It supplies a QR code to make sure that you can access the email address more than once if the session gets expire or any other unforeseen circumstance.
URL of Tempail – https://tempail.com/en/
21) MintEmail
MintEmail is a disposable email application. When you open this website, you will instantly get a fake email address. You can utilize it for an email confirmation. When you get an email in the mailbox, the system will upgrade the internet browser title bar. You do not need to click the verification link to verify your mail. Simply bookmark as well as get access to your mailbox address without any kind of login. Allow you to forward the inbound mails to any email address. It enables you to personalize email expiration time according to your requirement or testing time.
URL of MintEmail – http://www.mintemail.com/
Related- Top 29 Websites to get Free Usernames and Passwords