Here is the Review of Ivacy VPN, which has got attention for its very affordable subscription plan and premium features. In this review, I will be covering everything you should know about Ivacy VPN; it's pros, cons, speed, and premium features. This VPN is indeed the cheapest VPN.
Want To Buy Ivacy VPN– Get Amazing Offer Through our Affiliate Links below.
Introduction to Ivacy VPN and What they Provide–
The Ivacy is a Singapore based VPN service provider that provides you the range of premium services at a very affordable price from early 2007.
Despite being in the market for over a decade now, the Ivacy is still not a very popular brand due to may factors. The Ivacy is indeed a secretive organization.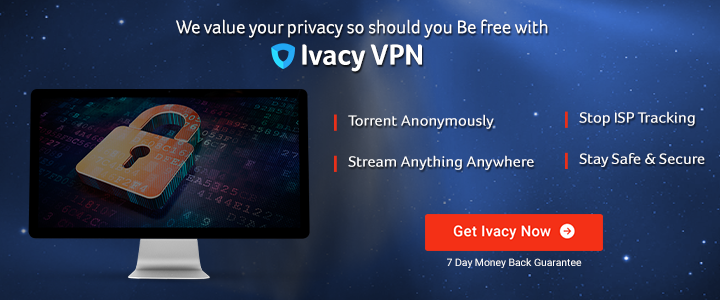 ---
Credits- Ivacy
Fun Fact– It was the Ivacy's technology team that discovered the revolutionary idea of split tunneling, which basically allows users to decide what traffic is sent through an ISP and what traffic is protected by their VPN.
So with that as a "First Impression" (pretty cool, right?), we wanted to test Ivacy VPN and how does it play with other VPN giants in the market.
Ivacy VPN Quick Glance:
USER INTERFACE:
Clean and Easy to Understand
USABILITY:
Simple & Straightforward for any user
LOG FILES:
No Logging Policy (Pretty Strict)
LOCATIONS:
55+ countries, 1000+ servers
SUPPORT:
24/7 available & knowledgeable
TORRENTING:
Torrenting Available
NETFLIX/ OTHER STREAMING PLATFORMS:
Available Anywhere & Anytime
ENCRYPTION/PROTOCOL:
256-bit, OpenVPN, PPTP, SSTP, L2TP, and IKEv2
COST:
1 month- $9.95
1 Year- $40
2 Years- $54
OFFICIAL WEBSITE:
www.ivacy.com
The Ivacy VPN provides the network layer malware protection that keeps you safe from all sorts of malware on the Internet. It also provides multiple types of VPN security protocols according to the requirement of the user or service.
The Ivacy VPN uses the Military Grade 256-Bit Encryption, which protects you and keeps your system safe from hackers, snoopers, and also Government surveillance. Ivacy VPN has an optimized peer-to-peer server that enables you to download any content from the Internet with reliable connection and ease.
Now coming to the main selling point of the Ivacy VPN cost.
So How Much Ivacy VPN Cost?
To give you the clear idea of pricing, here is the official pricing tab from the website-
As you can see, there is no FREE TRIAL! But considering the pricing, it is perfectly fine. So, here is the real deal.
For 1 month– $9.95/month  | $120 (approx)/year
For 1 Year– $3.33/month  | $40/year
For 2 Years– $1.99/month  | $24 (approx)/year
As you can clearly see that Ivacy has a very tight competition in the VPN companies and very aggressive pricing that I have ever seen with the premium features, of course.
Want to Buy Ivacy VPN? Click Here to Get Best Offers through our Affiliate Links.
---
This was all the impressive part I must admit, but now let's have a look at how Ivacy is as a VPN and does it do any good despite its aggressive pricing.
Ivacy VPN Pros

–
1) Speed-
For the speed test, I have used a speed test by Ookla as it provides near to very accurate speed with all the essential information. I have tested the speed for many locations, but here I am, putting out a few of them, or let's say most used locations.
For the test, which would be useful for almost everyone, I have tested the VPN with 50 Mbps connection for testing, which is the common speed connection people have.
1.1) USA (City- New York)
1.2) UK (City- London)
1.3) EU (City- Amsterdam)
1.4) Asia (City- Chennai)
As you can see, the speed varies from 7.76 Mbps to 38.04 Mbps depending upon the location and many other factors. All in all, Ivacy has high-speed servers in few countries and low-speed in few.
This speed is not at all ok-esh or bad but a good one. I have used the 50 Mbps connection, though you may get higher speeds for the higher speed connections.
Although, I was pretty disappointed with the UK server and that too a London one. The speed was just around 7 Mbps, and yes, I did test the London server for speed multiple times.
If you are using an Ivacy just for some random stuff and streaming on Netflix, YouTube, Hulu, then the speed will do fine.
2) The User Interface-
The first impressions of Ivacy were jaw-dropping, and the main reason for that expression was its User Interface. I have used multiple Virtual Private Network Softwares, Apps and tend to struggle a little bit at the beginning of the options or features. But this is not the case with Ivacy.
This has a very clean and soothing User Interface with a blue-ish theme. When the Ivacy is fired up, you see as below-
It automatically lands on the Smart Connect tab, which shows the options to set the location for service. The Ivacy provides location by countries and cities. There are a total of 66 countries (At the time of Testing [13th Oct 2019]) and 55+ cities to choose from. The range of the countries and cities does impress the user.
Interested In Voice Spoofing? Here are the Best Websites for Voice Spoofings
3) Privacy & Logging of Ivacy VPN (Literally..!!)-
When it comes to privacy and logging, Ivacy is very clear about it. You can read about every detail that Ivacy records and the details which Ivacy doesn't record. The policy is pretty straight-forward with no ambiguous statements.
If you ever have read the Privacy policy, then you know that the policy tends to have a single point elaborated so much that it diverts in away. But, when you take a look at Ivacy's policy, you might find it surprising to see the amount of information squeezed in a few meaningful sentences.
Ivacy VPN also allows you to request the deletion of your personal information from their servers via the Members Area of their official website.
4) Features & Services of Ivacy VPN-
Ivacy can be launch when Windows starts automatically, and you can also auto-connect to the network when Ivacy opens. It also supports IP and DNS leak protection with an Internet Kill option, which basically shuts the Internet when the Ivacy connection drops.
This software is available for Android, iPhone, Blackberry, Mac, Linux, Windows, Smart TV, Routers, Consoles, Openelec, and Kodi. We really loved the idea of Ivacy over Xbox if you play games online with other players who like to DDos the other players for certain reasons.
The left-hand bar of the UI is a feature pack side with features like Smart Connect, Secure Download, Streaming, Unblocking, Dedicated IP, and other options like My Account, Settings, Help, and Ivacy Blog. 
Secure download features enable a secure connection to download the content. The Streaming options provide multiple streaming platforms like Hulu, Netflix US, BBC, Amazon Prime US, ITV, ABC, and many more.
5) Support of Ivacy VPN-
The good thing is that Ivacy provides really good support if you ran into a problem or even have some doubts. The documentation is not as in-depth as other service providers like Express or even Nord, but it gets the work done.
The one thing about Ivacy that we liked was the quick response. We asked the test question and got the reply quicker than other competing VPN.
Want to Buy Ivacy VPN? Click Here to Get Best Offers through our Affiliate Links.
Ivacy VPN Cons-
1) Limited locations per Country-
Although the Ivacy mentions the server count to be more than 1000+, there is still an issue for the locations. There are some countries where there is only a single-digit city available on the list.
For Example, there are only 3 cities (Toronto, Vancouver, Quebec) as an option for Canada, a single city (Chennai) for India, a single city (Sao Paulo) for Brazil, and many more.
2) High-Quality Video Streaming-
While the streaming can be a pro of the Ivacy VPN, the high-quality streaming (1080p and 720p sometimes) has a buffering issue due to ok-esh Internet speed.
The video streaming on the phone (480p or even 720p) has a very smooth experience, though. The speed for streaming totally depends upon your Internet speed, Application, and location you choose.
Final Words for Ivacy VPN Review–
Overall, Ivacy is a very edgy service. There is also a concern for the number of servers on a specific location, which results in not so good speed for certain connections that may bother some users while the other users will be ok with that.
The price for Ivacy is around $40 for a 1-year plan, which is quite cheaper, considering the other VPNs which provide similar features. The price gets more affordable as you increase the time span. So buying it for 2 years bills you around $2.49 per month in the offer, and for 3 years, it will cost you around $1.99 per month in offer.
Ivacy offers a bunch of premium features with amazingly low prices, but we also faced some speed issues for certain regions. As we have given full Ivacy VPN review, so before you buy this software, make sure to research it thoroughly.
Do I recommend Ivacy VPN?
Yes, if you are a casual user who does regular surfing, downloads some torrents, stream online shows, then Ivacy VPN is a really good VPN at a very affordable price.
Ivacy provides easy to use User Interface with limited but the quality location options, and while they are not as high-speed providers like others, the advantages far outweigh disadvantages.
Have you used the Ivacy VPN before, let us know your experience down in the comments section below. We will be more than happy to add some of your points that we may have missed.
Want to Buy Ivacy VPN? Click Here to Get Best Offers through our Affiliate Links.